Sometimes, life's most extraordinary treasures are tucked away…
waiting to be discovered by those who seek something exceptional. For Wenatchee residents, the hunt for dazzling, one-of-a-kind jewelry leads them to the enchanting world of Harrison's Diamonds & Designs in Ephrata. In this blog post, we'll explore the alluring charm and exclusivity that make Harrison's Diamonds & Designs a must-visit destination for jewelry enthusiasts in Wenatchee and beyond.
Embark on a Journey of Discovery at Harrison's Diamonds Jewelry & Designs:
Stepping into Harrison's Diamonds & Designs is like entering a treasure trove filled with captivating jewelry pieces that tell a story. Our expertly curated collection and exceptional services create an immersive experience that keeps Wenatchee residents coming back for more:
The Art of Storytelling Through Jewelry: Our selection of exquisitely designed jewelry pieces captures the essence of life's most significant moments. From engagement rings that symbolize eternal love to heirloom-quality pieces that celebrate milestones, our jewelry tells a story that transcends time.
Unearth Rare and Unique Designs: Our extensive collection includes rare and unique designs that cater to a variety of styles and preferences. Whether you're drawn to bold, contemporary pieces or charmed by intricate, vintage-inspired designs, you'll find something that captures your imagination at Harrison's Diamonds & Designs.
The Alchemy of Custom Creations: For those who desire a bespoke piece, our custom design services offer a magical experience of transformation. Working closely with our skilled designers, you'll witness your ideas and inspirations take shape, resulting in a stunning creation that is uniquely yours.
An Oasis of Exceptional Customer Service: At Harrison's Diamonds & Designs, our dedicated team goes above and beyond to provide a personalized, memorable experience for our Wenatchee clientele. We're committed to helping you find the perfect piece that reflects your style and celebrates life's most cherished moments.
Experience the Enchantment of Harrison's Diamonds & Designs: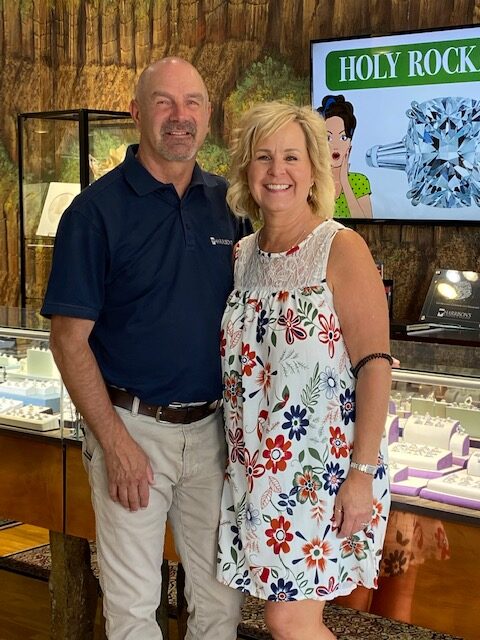 For Wenatchee residents, the allure of Harrison's Diamonds & Designs lies in its ability to offer an exclusive, enchanting jewelry experience that is truly one-of-a-kind. Our exquisite collection, custom design services, and unwavering commitment to exceptional customer service create an unforgettable journey of discovery and wonder.
If you're ready to embark on this captivating adventure, visit our showroom in Ephrata today. Allow us to guide you through the world of extraordinary jewelry that awaits at Harrison's Diamonds & Designs – where every piece tells a story and every story is a hidden gem waiting to be unveiled.